Wait, what is a throuple? Well it is basically a three-way relationship and if you're thinking of threesomes, then it is much more than that. It is indeed like a threesome but with much more commitment. A throuple can be defined best as a three way relationship that truly is what it sounds like it is. Throuples should be composed of at least one person that is not the same sex as the other two in the relationship.
Interestingly enough, movies have been applying themes of throuple relationships since quite a long time, some even becoming critically and commercially successful. Here we present movies and TV shows who have applied the themes of throuples successfully becoming cult classics and amassing millions of fans.
Director Alfonso Cuaron needs no introduction. His movies
Roma
,
Children of Men
and
Gravity
speak for themselves.
Y tu mamá también
is one of his earliest works and definitely the most vital of them all. It stars Diego Luna, Gael Garcia Bernal and Maribel Verdú in which is still considered their best work. The movie is about two men who go on a road trip with a married woman dismayed by her husband's infidelity. What follows is a beautiful and heartbreaking journey filled with raw emotions. The movie received a number of accolades including an Academy Award nomination for Best Screenplay.
Bernardo Bertolucci's adaptation of the novel The Holy Innocents marks the sensual Eva Green's screen debut as she romances Michael Pitt's Matthew and Louis Garrel's Theo, who also happens to be her brother in the movie. The Dreamers is set against the backdrop of the 1968 Paris student riots and has since become a cult classic with it's beautiful eroticism and the way it pays tribute to various classical and New Wave cinema.
From the minds of director Spike Jonze (
Adaptation.
) and writer Charlie Kaufman (
Eternal Sunshine of the Spotless Mind
,
Anomalisa
) comes this absurdly amusing and comical ride starring John Cusack, Cameron Diaz, Catherine Keener and ofcourse, John Malkovich as himself. The movie tells the story of Cusack's Craig discovering a portal into the mind of actor John Malkovich and later we see Craig and his lonely, frustrated wife Lotte, played by Diaz sharing their love for Keener's Maxine, through the mind of John Malkovich. As weird as it sounds, it is probably the funniest movie in our list with Jonze displaying his work. The movie is quirky, surreal, funny and definitely a must-watch.
The
Viu
webseries tackles topics such as friendship, romance, LGBTQ in a refreshing way making the main relationship between it's two leading ladies. XYX is the story of Nikky, Farah and Binny and how their friendship turns into romance. Each episode is pretty engaging with real stakes involved showing us the consequences that situations like this can bring upon the society we live in. Neha Iyer, Preeti Hansraj Sharma and Tarun Galot are amazing in their performances and definitely deserve much more appareciation.
While delving more into polyamority, Woody Allen's timeless romantic drama sees Juan (Javier Bardem) romancing Vicky (Rebecca Hall) and Cristina (Scarlett Johansenn) while still being enamored by his mentally unstable wife Maria (Penelope Cruz). Soon Juan, Cristina and Maria delve into a relationship that is as fun and sexy to watch as it sounds. Allen is known for his take on conventional relationships alongwith showcasing the scenic beauty in his movies and here once again we see the complicated nature of open relationships against the beautiful shots of Barcelona.
This American-Canadian TV show revolves around the married couple Jack and Emma Trakarsky (Greg Poehler and Rachel Blanchard) who fall in love with Izzy Silva (Priscilla Faia), a 25-year-old college student and part-time escort. The show is an excellent take on threeway relationships as it is committed to showing the honest frustrations and realities about this non-traditional relationship. With 4 great seasons and a final one coming up soon, this is an entertainer with love, laughs and a lot of heart.
Bruce Willis and Billy Bob Thornton star as two convicts who cross paths with a desperate housewife, played by Cate Blanchett. Director Barry Levinson (
Rain Man
,
Good Morning, Vietnam
) brings his regular dramatic and comedic flair in this movie with great performances by it's leads resulting in an absolute delight of a movie. The movie also boasts the comedic talent shown by Thornton, Willis and Blanchett, who are mostly known for their tremendous work in dramatic movies.
While mainly a crime thriller, this Oliver Stone movie sees it's protagonists Taylor Kitsch, Aaron Taylor-Johnson and their mutual girlfriend Blake Lively as marijuana growers who come head-to-head with a drug cartel enforcer, played by Benicio del Toro. The movie also stars John Travolta and Salma Hayek. Although not his best work, Stone's crime drama still boasts some great performances, especially by Lively and del Toro, fantastic locations and enjoyable action sequences.
The story of William and Elizabeth Marston (Luke Evans and Rebecca Hall) and their relationship with Olive Byrne (Bella Heathcote) comes alive in this biographical tale. In case you didn't know, William Marston was the creator of the famous comic-book character Wonder Woman and was inspired to pen the character after seeing Olive try out an outfit that would go on to become the prototype for the Wonder Woman costume. This underrated classic is a well-shot and masterfully acted biographical piece that takes us into the journey of their relationship that was considered rather unconventional at it's time and the subsequent birth of one of pop-culture's most iconic character.
While not based on one threeway relationship, this unique show focuses on one character, Annie, who after getting divorced, sets out to discover her sexuality by getting involved with a different couple in every episode. Laura Ramadei of
Orange Is the New Black
fame is amazing and with each new episode, we see her facing a new situation with each new couple. It is funny and sad at times with great performances in every episode.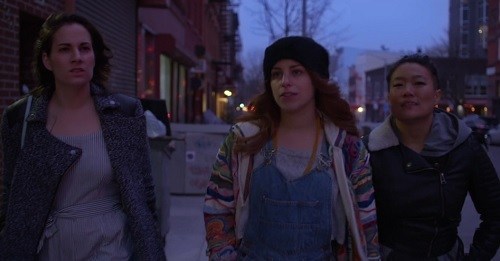 It does take a long time for the viewers to discover the throuple in the show but it's worth the wait. Ryan Murphy brings his trademark quirkiness in this political satire. Boasted by an immensely talented cast comprising of Ben Platt, Gwyneth Paltrow, Jessica Lange and many more, this show is an intelligently crafted piece with some great thrills and laughs in every episode.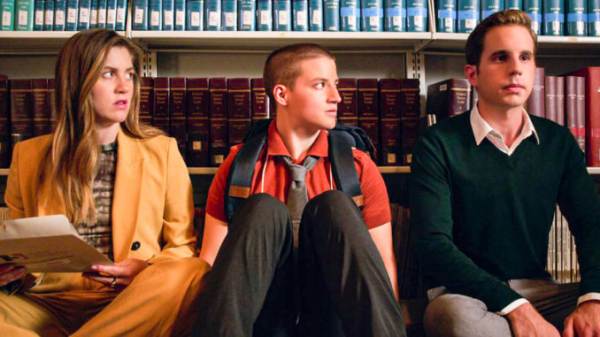 Although it takes three seasons, this hilarious show brings it's own take on throuples. They even have an episode named The Throuple in it but that's not the entire reason to watch this amazing show. Eugene Levy makes every scene with him a delight alongwith Dan Levy and Emily Hampshire providing some great supporting performances.
Bonus: Gandii Baat Season 1 Episode 1: Threesome
AltBalaji's bold and erotic anthology series Gandii Baat has already brewed a storm in the country and we couldn't resist putting up the episode that started it all. The story of this episode is basically what it sounds like. A man discovers his wife in bed with their neighbor. Initially upset, the man soon joins them in a reluctant threesome. This episode is also quite a big deal as it quickly gave us an idea of what this raunchy show is going to talk about and the territories it wasn't scared to explore.