No, unlike almost every other critic I am not going to shit on this film. Pigeons crapping yogurt on Akshay's face throughout the film did that part beautifully.
No Sir! I am going to first talk about this so-called franchise. Housefull.
The first film came out in 2010 and was a decent hit at the box office. It had a pretty decent star cast and I remember chuckling to a joke or two.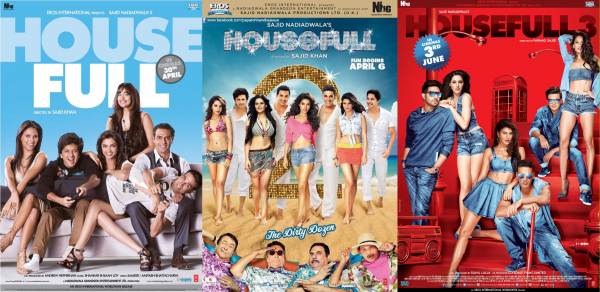 I frankly don't remember much of Housefull 2 OR 3 but both made money at the box office. Though I do remember that it was really hard sitting through Housefull and its super redundant and unfunny jokes.
Post the mega success of Baahubali I guess Bollywood got a huge wakeup call and now big Bollywood films are trying to look lavish and grand. The recent
Kalank
is an example, so is
iमणिकर्णिका
. However, they fail in the entertainment department.
Therefore, in all their wisdom, the producers of Housefull decided to smash together two of Rajamouli's biggest hits.
Magadheera
and Baahubali. This adds in a new re-incarnation element to the film, which has not been done previously in this series.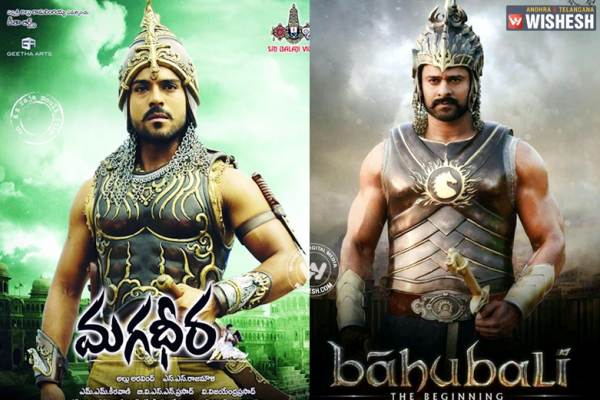 That's the background of this film. Maybe it doesn't deserve so much thought. Nevertheless, these movies make money and people love them a lot. Right?
I mean this movie is doing blockbuster numbers and every show is packed to the gills! That's the whole point, isn't it? Well, let's talk about the box office potential.
While booking the tickets for the movie, I noticed something strange. Many shows were showing Orange (Filling Fast/Almost Full) on Book My Show (BMS in short). Yet there were hardly any seats booked. It's being made to look as if those shows are selling out fast but the truth is an entirely different matter.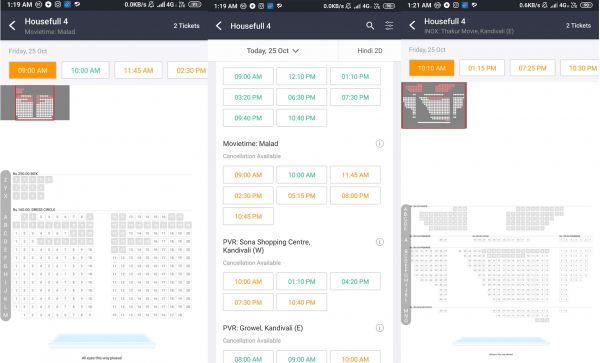 The first image shows the morning show in Malad and as you can see, the top show-time is in Orange, but the theatre is not even one third full. It's the same story for most, but not all theatres. I went to a show in Navi Mumbai and hall was almost full except the last 3 rows. I am not saying all shows are going empty, but it's admittedly strange that most of these orange fast filling shows are really empty. Same for Thakur Movie Theatre in Kandivali. No one looking at these images can say those theatres are almost full!
Fine! You might be thinking, the evening shows are surely fuller than this! Even if Friday evening is Dhanteras, Saturday it will be housefull! (Pun not intended)
Second set of images is of Saturday Morning. Again, the theatre is barely half-full but it shows filling fast. It's been like that since last night! The evening shows are more or less empty.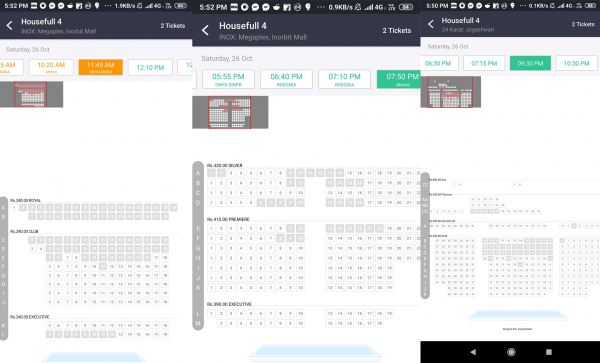 Therefore, the reality is… Housefull 4 does not have good pre-booking nor does it look like it will do that great on the opening day. The film is, however, doing rather well in the few single-screen theatres that exist, not to mention the famed Gaiety Galaxy is housefull!
Also, please note that all this is based on research only for the Mumbai + Suburbs Region.
However, here is the twist. Come Saturday of the first weekend, everyone will see articles stating how amazing the film is doing at the box office and how successful it is. This in turn will persuade the reluctant ones, to actually go and see the film! Fake hype will bring in real crowds…
Turning a weak opening day into a possibly successful weekend. I will not be surprised if articles come out saying its doing better than Baahubali 2 etc…
A good start often means success or failure and there is no way this movie can fail… Or can it?
Keeping this entire thing aside. Let's talk about the film itself. A combination of Past life and present comedy. The director (Sajid Khan) was fired for getting 'metoo'ed and the director of the third one took over.
So… How is the film? Let's find out in…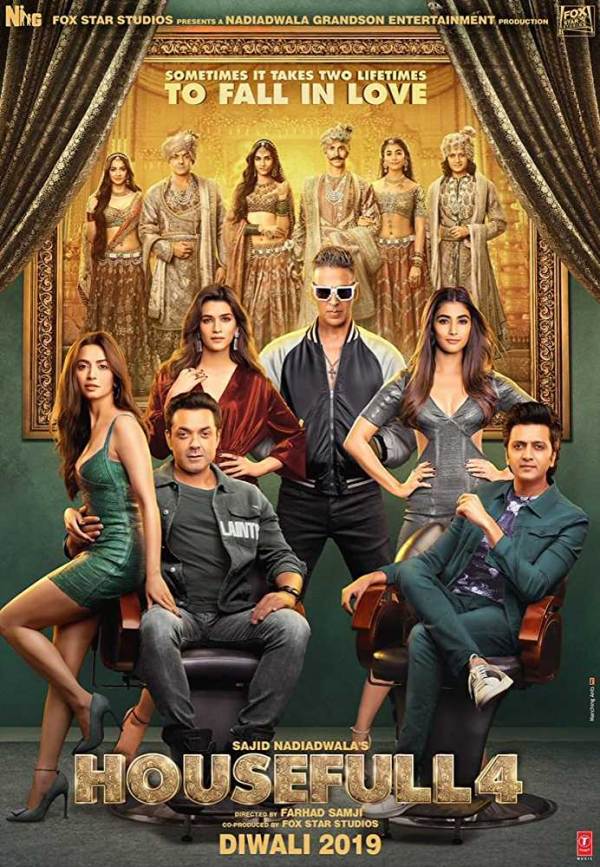 Housefull 4: A Full Review!
Akshay Kumar is no stranger to making really awful films such as Joker (no not that one…) the 2012 turkey was career ending for Shirish Kunder. Not to mention Chandni Chowk to China… another delightful (no, really not) box office disaster.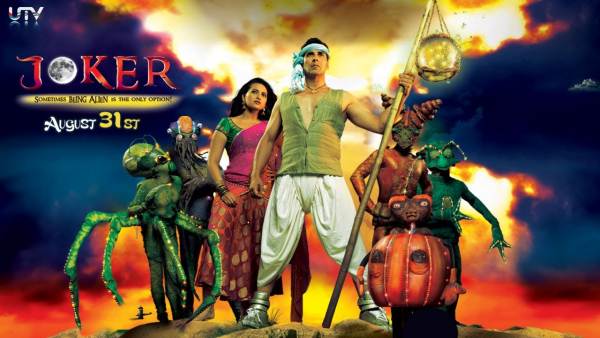 So I expect him to make such films. Every time he makes a film like Special 26, Rustom, Gold or Padman I am surprised and wait for the blow back.
Well, the wait is over. Housefull 4 is here.
I went into the film with less than zero expectation. I had seen the trailer and promptly forgot about it all. The director of this film was Sajid Khan but then the over talented Farhad Samji took over. He has made amazing films such as 2014's Entertainment, which was beyond unwatchable for me.
For the first 30-40 minutes, my worst fears were confirmed. The film is horrible and not at all watchable. The jokes were not funny; the humour is juvenile and immature. Akshay's whole forgetting things routine was ripped off from Golmaal and those scenes dragged a lot.
Then comes the much touted past birth/flash back. Set 600 years ago in 1419, it's not period accurate at all. However, do we expect this sort of film to have any integrity? But the movie did get a lot better with the introduction of Bala, shaitan ka sala!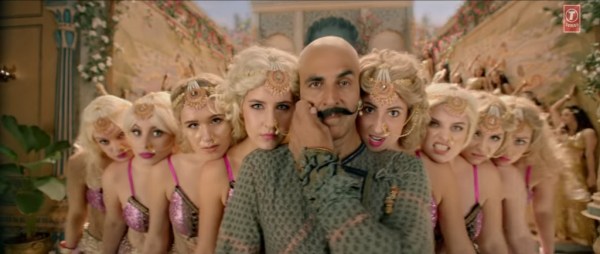 Bala! What a character!
Now this is a comedy film so I wasn't expecting much, but Akshay's character Bala is a unique one. He is not a hero at all, he is a scoundrel, no heart of gold and he keeps trying to lie and cheat his way into the big time. The past look and feel is obviously lifted from Baahubali and the film is at least self-aware and even shows the throwing of Bala out of his castle in a reverse parody of Baahubali. Even the music playing when that happens is a parody of the popular Saaho Re Baahubali from the second film.
Still, the jokes here too fell flat for me. But there were times the physical humour and the fun they seemed to be having while making the film shone through.
The flashback was a long one and consumed the entire first half of the film, which also includes a desi Khal Drogo rip-off by Rana Daggubati. I feel the producers must have felt a huge swell of pride when they managed to cast the villain of the very movie they are trying to copy and sometimes parody.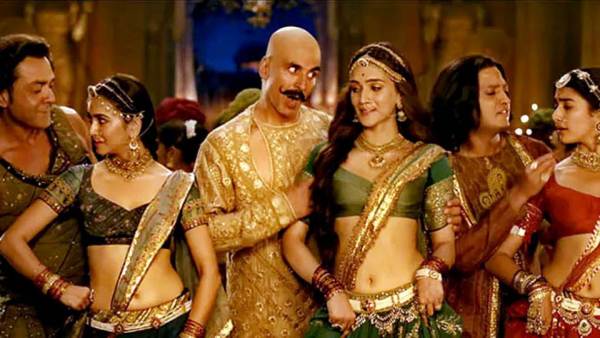 Next the movie came back into the present and the most unbearable part of the film started. I already do not like Johnny Lever much, but to see him play a woman in a man's body was torture.
As for the main trio of leads, they seemed to be having a great time. Bobby Deol despite being a flop hero manages to keep up with Ritesh and Akshay.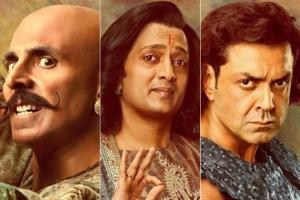 As for the three female leads, they are merely there for the plot purpose. They do not have any character or will. They just react as per the script. I had a hard time telling them apart! They all look and act so similarly. Kriti Shanon is taller than the other two but that's about it…
However, this is a Housefull film. What else can we expect?
The cinematography is fairly consistent and actually not bad. The long digital shots of the old-time Sitamgarh is not too badly done. The VFX itself is also passable and the huge sets are lavish and must have cost a pretty penny.
The gist of it comes down to... The producers knew that a typical Housefull film will not work these days so they went the extra mile with the reincarnation story and committed a lot of money for the same. For me, at least that bet pays off as it brings something new to this tired and old comedy genre.
Martin Scorsese recently said 'Marvel Film are not actually Cinema'. His friend Francis Ford Coppola Called them 'Despicable'. For a critic trying to rate this film is something similar. Auteurs will give this film a 1/10!
But the people who love such films, who go to the cinemas to see a mindless and fluffy entertainer with bad jokes and maybe few good physical comedy bits, then this film would be a 10/10 for them.
For me, I will rate this as per how much I enjoyed or hated it. For me it was a passable one time watch for the past life reincarnation angle and Akshay's comic timing. I had gotten bored stiff watching Kalank in theatres. I also enjoyed this film more than Thugs of Hindosthan. Both of those films flopped but are comparable to this film in budget and scale.
However, I can totally understand why half the audience came out grumbling and the other half laughing.
Rating : 5/10. It's not the worst Housefull Film. Technically, it is decently done and overall despite its length I did not feel bored. If you have brain cells, do not burn them for this film.
P.S : Why is it that there are three movies coming out one after the other which has a bald protagonist? This week its Housefull 4, then comes Ujda Chaman the week after and then the strangely named (did they plan it with this film?) Bala, which has Ayushmann Khurrana.
P.P.S : No one show this film to the royal family of England. They make serious fun of them in a song set in London. They feature doppelgangers of the royal family and finally Akshay kisses the queen! As far as I know, Akshay is a Canadian citizen whose Queen is Elizabeth II.