Among thousands of other extensions that allow communal-viewing experience, Flickcall is without a doubt, the best extension ever.
The pandemic has left everyone in low spirits across the world. People are aching for human contact after being locked inside their homes for the past six-seven months. Although, the government has put an ease on the lockdown guidelines and people have even started going out, there's still a lot of fear in many people who don't want to catch the Virus. So people have no choice but to stay behind closed doors.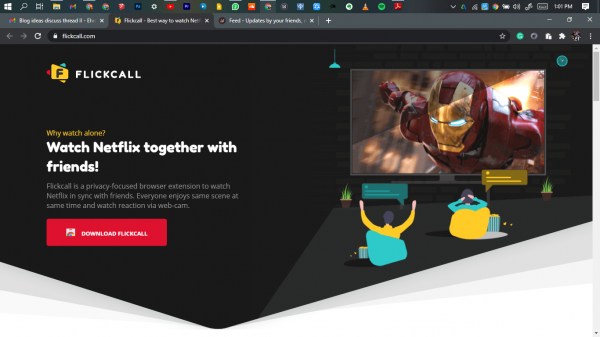 FlickCall is an extension for Netflix.
This has had a very rough impact on the communal viewing experience of watching films in a theater with a packed audience. There's just something magical about being locked in a room with hundreds of other people who all are going through the same plethora of emotions as you. This is the reason why a lot of people missed going to theaters in 2020 and from what the news tells us, the virus isn't going anywhere till mid-2021.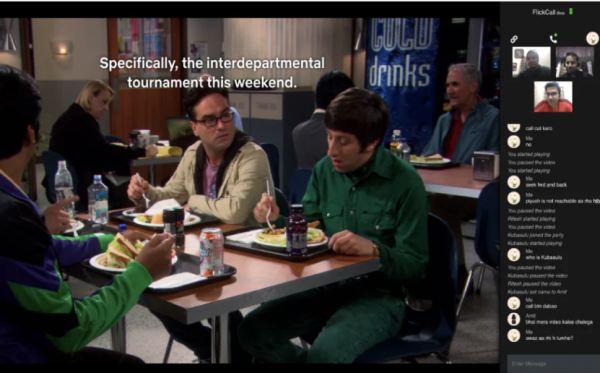 FlickCall is used for group-viewing
All this is making people really anxious, especially during Christmas time, and some have even become desperate to find creative alternatives to the communal movie-watching experience. This is where communal movie-experience extensions come on-board. They are basically an extension that allows a group of four-five people to connect via video and voice calling while watching a show on OTT platforms or anywhere for that matter. These extensions are really the game-changer when it comes to communal movie-watching experience as they allow an easy portal for people to connect with their friends without much fuss and experience an iota of what a cinema-hall experience feels like.
FlickCall: The Only Extension you need.
Among thousands of other extensions that allow communal-viewing experience, FlickCall is without a doubt, the best extension ever. The application or extension allows a user to easily connect with their friends or relatives over a video call as well as voice calling which enables one to talk while watching Netflix on a laptop or a PC. The extension, for now, is limited to only Netflix since it is comparatively new but rest assured that it provides the best experience and thus stands out as the winner in giving a theater-like feel at home.
The FlickCall extension
Features of FlickCall-
Some of the best features that FlickCall has is listed below:
1. Easy to Use:
The extension is very easy to use. One can easily find the extension on the official website of FlickCall. You just have to download the extension. This will enable the extension to appear in the chrome bar. Now all you have to do is to play Netflix and then click on the FlickCall icon at the top-right corner of your screen. From there you can easily add your friends, partner, etc and enjoy watching your favorite shows and films at the same time without having to get up from your bed.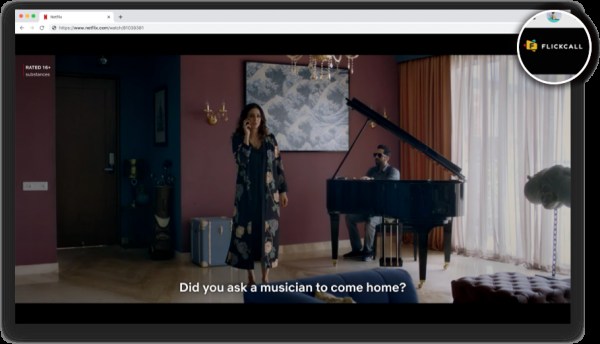 2. In App Video Calling:
FlickCall is only extension with in app video calling feature. You can immediately see your friend's reaction in real-time along with watching the movie. It also provides good sound and video quality so that you don't have to worry about anything other than enjoying the theater-like experience.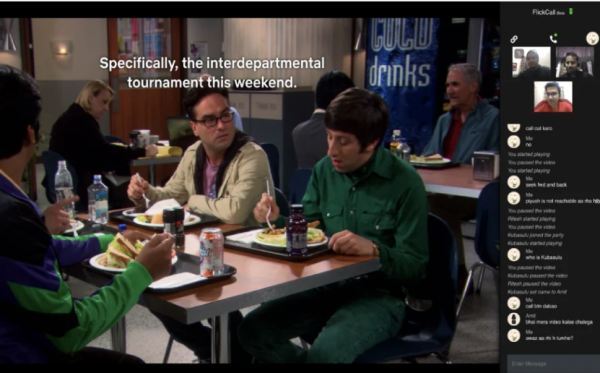 3. Group Chat:
The other exciting feature of the FlickCall extension is that it allows group chat when you have more than four-five people connected at the same time. This helps in giving instant feedback to other people in the group and adds-on the theater-like experience.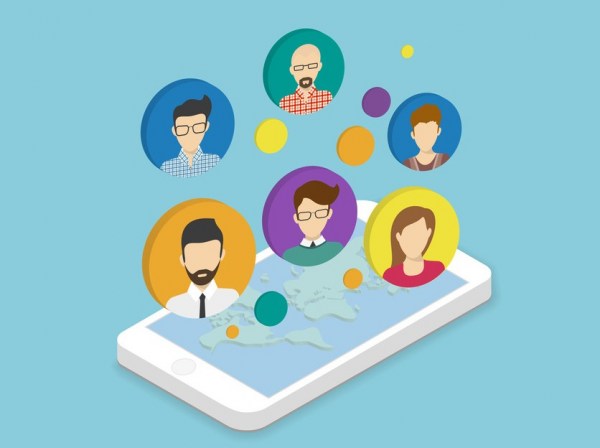 4. Safety of Privacy:
The most prolific feature of the FlickCall extension is that it doesn't ask for unnecessary personal information like location, etc. The group chats and the video calling is also safe as it doesn't connect people through central servers, instead it directly to the extension installed on all the devices. This prevents the extension from using any sort of private information.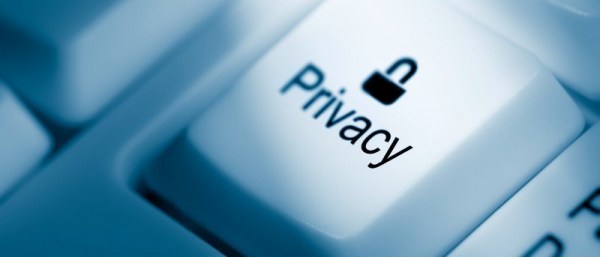 Now that you have enough knowledge about the FlickCall extension and the various incredible features that it offers, it is time to install it on your device and connect instantly with your friend to enjoy your favorite shows and films.
List of shows to enjoy with Flickcall
Since this is the holiday season and everyone is looking to have a good time on Christmas, here are some bonus recommendations from our side if you are trying to watch something that everyone can watch and enjoy together:
This classic sit-com has become a pop-cultural phenomenon in many countries including India where the show enjoys a huge fan-following. The show is a light comedy around the lives of six friends who all live in New York. The comedy of Friends is very relatable to young people as the show deals with relationships, romance, career, etc.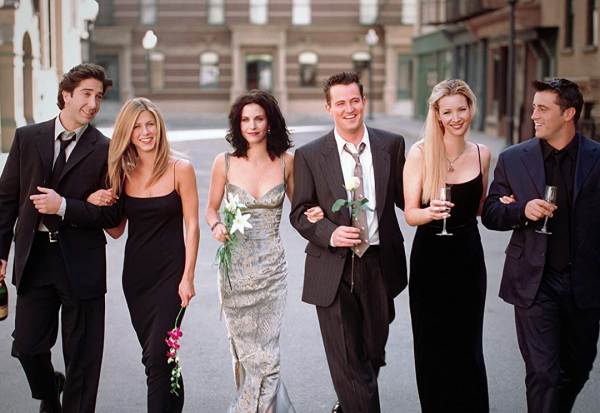 You can watch the show on NETFLIX.
Are your friends and cousins science geeks and are looking for a show that talks about science in a fun way? Worry not for Netflix is streaming one of the most talked-about sit-coms of this decade, The Big Bang Theory. The show focuses on a bunch of science nerds and the various struggles they face. The show is hugely funny to people who understand complicated equations and theories. But worry not it also has tons of goofing around.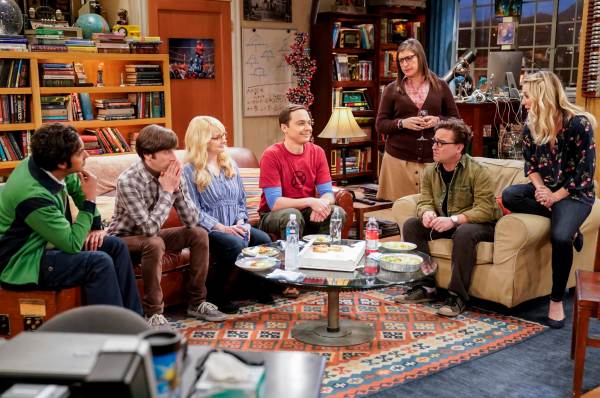 You can watch the show on Netflix.
If you are the type of gang that enjoys a more sophisticated and mature comedy, then Aziz Ansari's Master of None is the best Christmas pick for you. The show is about an American-Indian actor who is struggling with his career and relationships. The show has the best depiction of modern-day romance and relationships. The show won numerous Emmy-awards when it came out and has since gone on to become one of the most loved comedy shows ever.
You can watch the show on Netflix.
This show is a perfect Christmas watch if your gang loves to watch horror stories. The show has been cited by some as one of the best horror shows in recent times and currently holds a terrific rating of 93% on Rotten Tomatoes. The show is the first entry in The Haunting anthology series on Netflix. The show is really scary and is a perfect pick for you if you love your Christmas with some jump scares.